What is Skin Removal Surgery?
Skin removal surgery includes a variety of body contouring procedures to remove excess skin on the arms, legs, torso, and buttocks caused by massive weight loss. Not only will it give you a more contoured and firmer shape, but it will also enhance your comfort and self-confidence.
The recovery time
It depends on the procedure you have. For example, you can do a daily basis and return to work within 1-2 weeks if you have a small procedure such as breast lift or arm lift. The most important thing is to listen to your body.
What can I expect from skin removal surgery?
This procedure can be done after massive weight loss. You can expect a significant improvement of your body. You will be more toned, contoured and firmer. Self-confidence, comfort and youth are regained.
Review 
Emily had skin removal surgery with Destination Beauty
Skin removal surgeries are individual and it's designed to target the areas with the most excess skin, and of course the areas you are concerned about. Emily lost approximately 90 kgs. After her gastric sleeve. The picture above shows the before and after of an extended tummy tuck and also a breast lift surgery.
Erina had skin removal surgery with Destination Beauty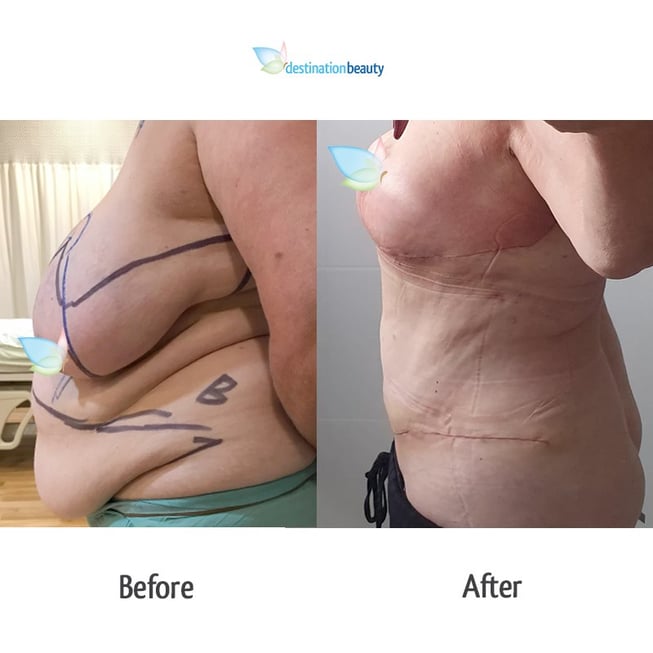 Erina's surgery is another good example of skin removal surgeries after massive weight loss. Erina had a breast reduction and a massive extended tummy tuck with some liposuction.
What are the typical skin removal surgeries?
Below we will list some of the more common skin removal surgeries. As a part of our service we encourage you to send in pictures of your body so the surgeon can review and recommend procedures for you. That process is of course provided free of charge.
Arm lift
A very common surgery after weight loss is an arm lift. The surgeon will remove excess skin from your arms.
Breast lift or breast reduction
When you lose lots of weight, your breasts often start to sag, lose volume and skin elasticity. With a breast reduction or lift, your breasts are lifted up and the size of your breasts may be reduced or increased too. (depending if an implant is used)
Extended Tummy Tuck
After massive weight loss, you may have sagging skin on your belly, sides and back. Extended Tummy Tuck is a procedure where excess skin is removed from your tummy. The incision extends from the hips to the back.This procedure could help you get a new flat tummy. 
Tummy Tuck
Tummy Tuck is a common procedure after massive weight loss. The procedure removes skin and fat from the middle and lower abdomen for tightening the skin around your tummy. A standard Tummy Tuck incision is along the bikini line that extends hip to hip and around the belly button. 
Belt Lipectomy
As a result of weight loss, lots of skin is sagging all over your body. Belt liposuction also known as body lift can be performed to remove excess skin from the torso and upper legs. The procedure tightens the buttocks, thighs, and hips resulting in smoother, younger looking skin. 
Thigh Lift
After massive weight loss, many people lose skin elasticity and have saggy thighs. This procedure is to address these problems as it will remove the excess skin and tighten the thighs. Overall, thigh lift will improve the appearance of your thighs, give confidence and also increase comfort as well.
Face Lift 
A face-lift is a procedure that gives you a more youthful appearance by getting rid of the loose skin and tightening the facial muscle. The sagging or folds of skin on the forehead, cheeks and jawline which occur when your skin is less elastic will be much improved. You can expect fresher, younger and more rested appearance.
Neck Lift
A neck lift is often done with a face lift to reduce loose skin and excess fat on the neck. It will give you.